England
manager Fabio Capello will be without
Chelsea
duo
Frank Lampard
and
John Terry
for the Euro 2012 qualifiers against Bulgaria and
Switzerland
after both were injured in their team's win against
Stoke City
on Saturday
.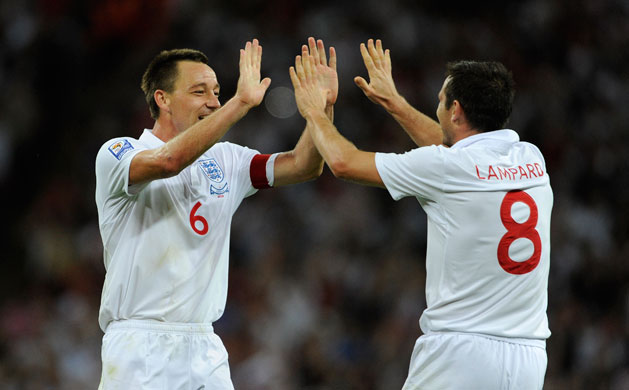 Terry and Lampard out because of injury while playing stoke
Midfielder Lampard was ruled out with a hernia which will need surgery next week while the Premier League club also said that Terry was unavailable because of a hamstring injury.
Lampard was substituted in the 2-0 win after having missed a penalty in the first half.
"He (Lampard) will need surgery this week, Tuesday or Wednesday. He will not be able to play for England. We have told England," Chelsea manager
Carlo Ancelotti
told reporters.
"In one or two weeks he will be back. It's very easy surgery. He needs to do it because he was starting to feel pain."
The loss of former captain Terry is a major blow especially as
Manchester United
's
Rio Ferdinand
is still sidelined with the knee injury that ruled him out of the
World Cup
and there are doubts about Tottenham defender
Ledley King
's abilty to play two matches in quick succession.
"John Terry has tonight been ruled out of England's next two games due to injuries to his right hamstring and glute muscles," Chelsea's website said.
"John has spoken personally to the England management team, and Chelsea and England medical staff have also been in touch.
All are agreed that John's injuries, that he has carried since pre-season, would benefit from a period of rest and rehabilitation."
Will they be back with the 100% Chelsea? Yeah
Capello's options in attack are also looking a little thin.
Crouch injured a rib against
Wigan Athletic
and Zamora, who made his debut in the recent friendlly against Hungary, is also a major doubt according to his manager
Mark Hughes
after suffering a thigh injury in the 2-2 draw at
Blackpool
.
Zamora was on target for Fulham but ended the match in pain after sustaining a blow on his thigh in the first half.
"I would suggest Zamora is a real doubt at the moment," Hughes told the BBC. "It stiffened up at halftime and he thought it might loosen up but that was not the case and it may be more serious. Hopefully he will not be out for a long time."
Tottenham's
Jermain Defoe
, the only England striker to score at the World Cup, is also carrying a groin injury that could need surgery.
Better news for Capello was
Wayne Rooney
's return to form for Manchester United when he scored his first goal for five months, albeit a penalty, in the 3-0 win against West Ham United while Arsenal's Theo Walcott notched his fourth goal of the season in the 2-1 win at Blackburn Rovers.
England face Bulgaria at Wembley next Friday in their opening Euro 2012 qualifier before travelling to face Switzerland the following Tuesday.